Hi All,
Welcome to the first WVD news of june. We again had some nice news from the engineering team and from the WVD community.
WVD Auto Feed Registration Intune Policy Setup | Default Connection URL Options | Best Auto Subscription Options
Anoop Nair is blogging alot about WVD and this week he has a blogpost around distributing subscription feeds to the users.
WVD Zero to Hero Introduction
Shabaz Darr and Simon Lee have started a new Youtube series about WVD. the first video is out and gives you an intro about the series. Looking forward to see more content guys.
How to migrate a managed Windows Server 2022 image to Shared Image Gallery on Azure
Yannick Dils has written a new blogpost. This time he covers the new server version 2022. in this blogpost he covers the steps to upload a managed image to a SIG in Azure.
Updated Citrix + WVD Cost Savings Calculator
Microsoft released version 2 of the Citrix + WVD calculator. It contains several improvements that will help you like quantifying the number of users.
Fair Share CPU Scheduling on Windows 10 Multi-Session
Neil McLoughlin has also written a new blogpost. He answers a question from the WVD Slack Channe about CPU Fair Share. If you want to know all about it check he's post.
Project Hydra
Marcel Meurer is working on a new super cool project. Project Hydra will be able to manage WVD for multiple tenants. It's still in preview so no support for the moment. If you have a test environment, go and test it! Great job Marcel!
Windows Virtual Desktop and 10zig
WVD can work from many devices. Marco Moioli tested WVD together with the thin clients from 10ZIG. He shares he's experience in this blogpost.
What's new in Windows Virtual Desktop?
Tom Hickling shared the monthly updates from the WVD page. Again alot of updates were released last month. Microsoft is spoiling us!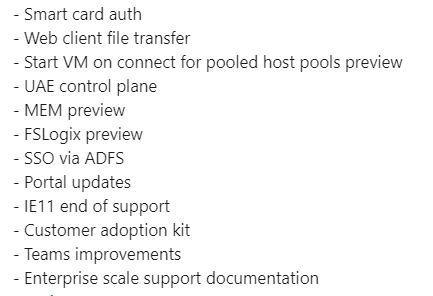 Change WVD disk size based on a Shared Image Gallery image automated
Sander Rozemuller has written another blog about automation. This time he covers the options of changing the disk size of a WVd session host automated.
Nerdio new release features
Bas van Kaam shared a post with all the newest changes for the Nerdio Manager for WVD. This product just keeps getting better and better!
WVD metadata Europe region
This feature was released in public preview several months ago and is finally gone GA. This very good news for companies who need their data stored in the europe region.
Seamless Single Sign-on
Dean Cefola keeps on creating awesome content for WVD. This time he wals us through the setup of the new SSO feature for SSO. You have got to see this video.
Az.DesktopVirtualization Powershell Module
The version 3.0.0 is out for the powershell module for WVD. Thanks to Micha Wets to posting this on Twitter.
What The Hack -Windows Virtual Desktop
While I attended the USWVDUG this evening Dean Cefola mentioned this GitHub page. If you want to prepare for the AZ-140 exam this is a great resource.
That's it for this week, enjoy the weekend and see you all next week.