Hello everyone,
Welcome to this week's newsletter. We had some awesome announcements this week so let's get started.
Public preview of MEM management for Windows 10 Multi-Session
One of the major announcements of this week is the public preview for multi session session hosts for wvd. This will help alot of customers of applying policies to these machine using MEM. For more information about the prerequisites follow the link below.
Version 1.2.2061 of the Windows Desktop client (MSRDC) for WVD has been released to all users!
This week the new version of the WVD client was released for all users. For all the details about this release you can find the link below.
Single Sign On via Active Directory Federation Services (ADFS) per host pool Public Preview
The 2nd major update for WVD this week is SSO via ADFS. This weill help alot of customers and simplify authentication.
Useful video on integration between MEM and Windows 10 Enterprise multi-session (public preview).
If you want to learn more about the integration of WVD and MEM, you need to watch this video.
WVDAdmin new version release
The already fantastic WVD tool from Marcel Meurer keeps on getting better. If you haven't tried it yet, you don't know what your are missing.
WVD Intune Support is Available for Windows 10 Multi-Session | Windows Virtual Desktop | Endpoint Manager
Anoop Nair has written a blogpost for the new public preview of the MEM and WVD integration. If you want to know more about go and check out hes blog. He explains how to enable the session hosts for MEM.
WVD Intune Filters to Target Apps Policies Only to Windows 10 Multi-session VMs | Windows Virtual Desktop | Endpoint Manager
Another blogpost of Anoop Nair about MEM and WVD. This is a very detailed post on how to create Intune filters to target Apps Policies only for Multi session vm's.
FSLogix release 2105 Public Preview
Microsoft released the new version of FSLogix version 2105 (2.9.7802.10873) For access to this version you need to fill in the form that you can find here.
Unlock The Potential of Technology
Dean Cefola released the newest episode of the AZ-140 study guide. This time he covers everything you need to know about automation. Great work Dean.
Coming soon Microsoft Teams: Large Gallery for WVD/VDI
Christiaan Brinkhoff shared this update from the roadmap. This will help alot during teams meetings.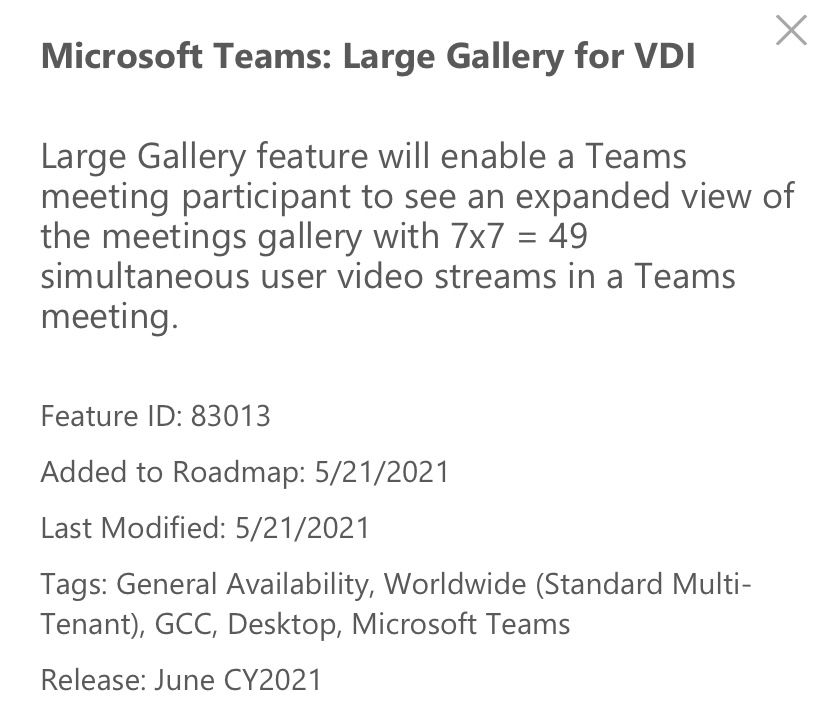 WPNinjasGER | Marcel Meurer – Work with WVD like a PRO
If you want to rewatch the session Marcel Meurer gave for the workplace ninja user group germany you can. Its uploaded on youtube.
That's it for this week. Enjoy the weekend and until next week.