Hi All,
Welcome for the last WVD news of the week for april.
AZ-140 study guide
Dean Cefola released episode 15 of he's WVD study guide on sunday. He covers everything you need to know about the WVD hostpools.
Deploy WVD Client in System Context via MSIntune
Alex Durrant has created an blogpost explaining how to use Intune to deploy the WVD client with the Powershell App Deployment Toolkit.
The pitfalls of using a Type Two Hypervisor for running older Apps with WVD
Ryan Mangan has written another blog about old LOB apps running on OS's like XP, Windows 7 or older. He also explains how WVD can help with this.
Senior Feature Program Manager for WVD
Pieter Wigleven tweeted that you can apply for a job on the WVD product team. If you think you have what it takes to work on WVD go ahead and apply.
Proxy server guidelines for Windows Virtual Desktop
Although it's not recommended to use WVD together with proxy servers, you can do it. Denis Gundarev shared the link to the new docs article about this.
FileZilla to MSIX FileZilla
Stefan Georgiev has created another video about MSIX . In this video he create an MSIX package for FileZilla.
WVD in a Box Webinar – Recording from 20th of April 2021
In case you missed the webinar from Rimo3, you can now watch it on Youtube.
New Az.Wvd WVD Powershell module
Sander Rozemuller has created a first version of he's Powershell module for WVD. I'll be taking this for a spin during the next couple of days. Great work Sander!
Windows Virtual Desktop on IGEL OS – Bring your own printer using CUPS! 11.05.131 released!
Fredrik Brattstig shared a new blogpost explaing a new feature of the Igel firmware. You can now use a CUPS (Common UNIX Print System in your WVD session;
VDI Like A Pro State of EUC 2021 Report
This week the team of VDI Like A Pro had their launch event for the state of the Union 2021 survey. You can download the report on their site.
E-book from Lab3 about WFH
Lab3, Microsoft and NetApp have published an e-book about the transition of companies to work from home during this covid pandemic.
Reassign a WVD Personal Session Host
A problem that we all have faced to assign an personal session host to another user. Tom Hickling explains how to do this in 3 simple steps.
All you need to know about MSIX app attach
Microsoft is organising a webcast on the 5th of may. This webcast will be delivered by Micha wets. He will tell you everything you need to know about this technology.

WVD Transfer files with the web client
Amarnath Rajendran has shared a blogpost explaining us the preview feature to transfer files via the wvd web client.
Desktops in the Cloud episode 16
Chrstiaan Brinkhoff and Dean Cefola released their next episode of the hit podcast Desktops in the Cloud. This episode is from the last WVD community event.
MSIX Packaging Tool April 2021
Microsoft released the newest version of their MSIX packaging tool. For the entire list of improvements use the link below.

Supercharge WVD user experience with AMD Azure VMs, Nerdio orchestration, and Sepago monitoring
Nerdio is organising a webinar on the 25th of may. They will discuss bout AMD azure vm's and, Nerdio and Spago monitoring. The webinar is hosted by Vadim Vladimirskiy, Thomas Poppelgaard and Marcel Meurer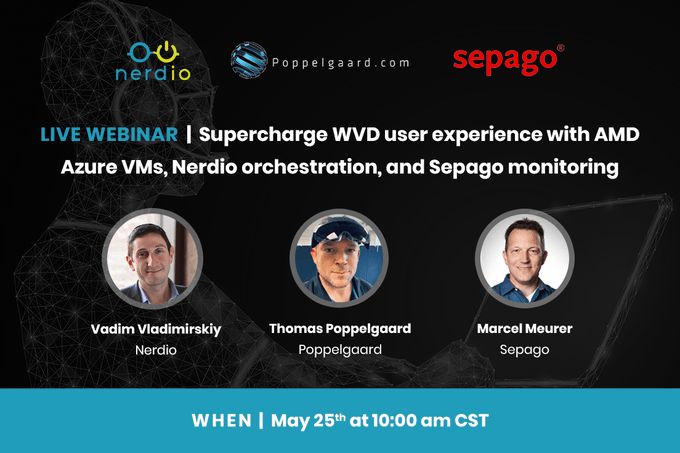 Thanks for reading this week's WVD news of the week. Enjoy your weekend!