Hello all,
Welcome at the 2nd AVD news of the week. Again there is some nice AVD news to share.
Turn off "News and Interests" taskbar widget for Windows 10 Enterprise Multi-Session
Patrick Köhler created a new blogpost. This time he covers how to turn of the Windows 10 News and Interest widget. Can be usefull on AVD session hosts.
How to reset the Remote Desktop Client on Windows 10
Patrick Köhler is active this week. In this blogpost he covers how to reset the AVD Windows 10 via powershell. If you need it this is very usefull. Thanks Patrick.
How to pass AZ-140 certification exam – AVD Specialisation
For everyone wanted to pass the AZ-140 exam this is a very helpfull post. Patrick explains the topics and what resources to use.
Shut Down Unused Session Hosts in an Azure Virtual Desktop (WVD, AVD) Personal and Pooled Host Pool
Travis Roberts released another video. He covers the options to shutdown session hosts from multiple hostpools. This happens only if the session host is unused.
AVD Automation Cocktail – AVD With Bicep and Azure CLI
Sander Rozemuller released the first AVD Automation Cocktail. This weekend we can enjoy from the warm weather and a Fresh Minty Breeze cocktail.
Series 5: Episode 3 – AVD Zero to Hero: Planning for AVD
Shabaz Dar and Simon Lee released the next episode from their AVD Zero to Hero series. This time they cover "Planning AVD Deployments".
The Home Stretch | User Experience | Testing
Dean Cefola finished the last episode from he's awesome study guide. He covers MEM, Universal Print and device security. A must watch.
Getting started wizard in Azure Virtual Desktop
Microsoft announced a very cool tool this week. They created a "getting started wizard for AVD". It supports both an existing setup and empty subscriptions.
Remote Display Analyzer 2106 released
Bram Wolfs released the new version of the RDA 'Remote Desktop Analyzer). Check out the link bewlo to see all the impovements including AVD RDP Shortpath.
Remote Desktop Analyzer and Nerdio
Bas van Kaam announced that the RDA tool from Bram Wolfs is a part of Nerdio Manager for WVD scripted actions. Nerdio just keeps getting better!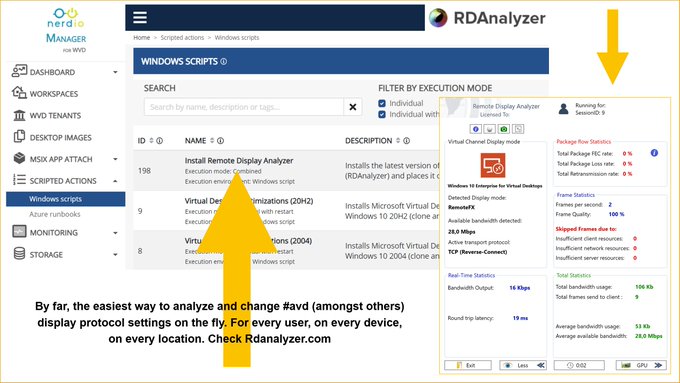 MEM Intune: Create Assignment Filters for Azure Virtual Desktop Single Session Windows 10 | AVD
Anoop Nair keeps on publishing blogs about AVD. This time he covers MEM assignment filters for AVD Single session.
Thats it for this week. Enjoy the weather and the weekend.