Hi All,
Welcome again to my weekly blogpost with all the wvd relevant news of this week. Let's get started because it's a logn list for this week.
Belgium Windows Virtual Desktop User Group
The first news is from myself with the announcement of the first BWVDUG virtual event. The event is planned on 29th october. Be sure to register. Guest speakers are Christiaan Brinkhoff and Esther Barthel.
Windows Virtual Desktop Better Together – Microsoft and NetApp
A webinar from Microsoft and NetApp has been announced for in november.
Blogpost from Niels Kok about WVD Delete Hostpools Powershell
Niels Kok has written a very nice blogpost about a script which initiates a delete request for all resources in a Resource Group, I use this script for deleting WVD hostpools with Powershell.
Citrix + Microsoft: Better Together Partner Webinar Series
Citrix and Microsoft are organizing a webinar series. See for all the details in the link below.
Azure Academy new video about WVD
Dean Cefola from the Azure Academy released a new video about DR planning with WVD.
New Udemy course for WVD from Ciraltos
Travis Roberts aka Ciraltos has created a UDemy course to start with WVD.
How to fix the borderless window "problem" in Windows Virtual Desktop
Robin Hobo has written a blogpost to solve the borderless window issue.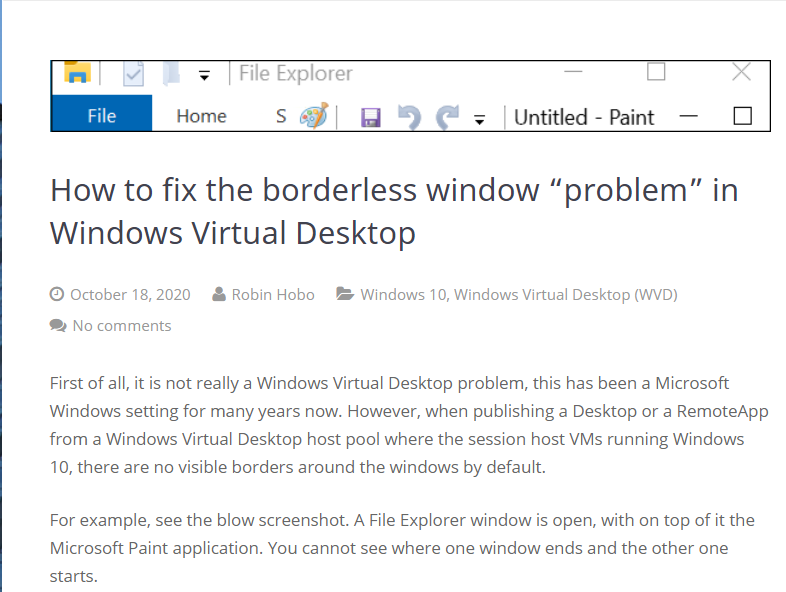 Microsoft WVD advanced specialization program
HTG announced that they passed the audit and achived this prestiges award from microsoft. A big congrats from them on this huge achievement.
Freek Berson announced today that Wortell has also achieved this status with a perfect score.
New ARM template Microsft Learn modules
Microsoft released new Microsoft Learn modules on how to work with ARM templates
Update WVDAdmin
Marcel Meurer released a new update for WVDAdmin to administrate several session host at once.
Windows Virtual Desktop Image Management Automated – Part 4 – WVD Clean up unused resources
Sander Rozemuller has written an very good blog to cleanup unused WVD resources.
Nerdio Manager for WVD community Edition
Nerdio has a launch event for the WVD community Edition for WVD. Alle info can be found on there website.
ANZWVDUG October meetup
Zane Pritkovs hosted the ANZWVDUG october meetup. You can watch the recording on Youtube.
Windows Virtual Desktop now generally available in Azure Government with FedRAMP High
Microsoft announced the general availability of Windows Virtual Desktop (WVD) in Azure Government with FedRAMP High accreditation. This enables agencies to adopt WVD for mission-critical workloads, empowering more productive work-from-home scenarios while maintaining a stringent security and compliance posture.
Desktops in the cloud new episode
Christiaan Brinkhoff and Dean Cefola released the new video podcast and this week Stefan Georgiev.
Announcing Windows 10 Insider Preview Build 19042.608 (20H2)
Microsoft announced the preview build of Windows 10 20H2.
Windows Virtual Desktop: Host Pool Creation
Michele Vigilante has written a very blogpost about WVD host pool creation. A very nice and detailed blog.

There we go, this coevrs all the latest wvd news, see you next week.