Hello and welcome to the first AVD news of august. As always we have some exciting news from Microsoft and from the community.
Windows 365 GA
This week Scott Manchester and Christiaan Brinkhoff launched Windows 365 aka Cloud PC. It's the new service offering from Microsoft where you pay a certain amount per month for different sku's and have your own personal desktop.
More info on Windows 365 for business: Get started with Windows 365 Business – Microsoft Tech Community
More info about Windows 365 for Enterprise: Get started with Windows 365 Enterprise – Microsoft Tech Community
Windows 365 Documentation page: Windows 365 Enterprise documentation | Microsoft Docs
Microsoft Mechanics windows 365 video
In this episode Jeremy Chapman is joined by Christiaan Brinkhoff to talk about the new windows 365 service.
Windows 365 Enterprise: Requirements and Walkthrough
Travis Roberts has created a video about the new Windows 365. He walks us through th requirements and the setup.
LIQUIT | One App Management Platform To Rule Them All
Dean Cefola has started a new series on the Azure Academy called "Reviews". The first one is about Liquit the ultimate App Management platform.
Windows 365 Cloud PC just released by Microsoft – What about IGEL OS endpoints?
Fredrik Brattstig has written a blogpost about the new Windows 365 service and Igel endpoints. You can connect using Igel clients as long you are using firmware 11.05.170.
Namaste Techies – Windows 365 Web Client Portal vs AVD Web Client
In this episode Harjit Dhaliwal & Anoop C Nair talk about the differences between the Windows 365 portal and the AVD web client portal. Nice video to see.
AVD Zero to Hero Episode 9
The next episode in the AVD video series of Shabaz Darr and Simon Lee. This time they cover AVD and Security.
Choosing Between Windows 365 and Azure Virtual Desktop (AVD): A Business Perspective
Vadim Vladimirskiy from Nedrio has written an great blog about Windows 365 and AVD. If you have questions what service is the best choice for you this guide is for you!
Windows 365 – The full guide
Patrick Köhler has written a super guide for the new Windows 365 service. If you want to know more from this service, check out he's guide.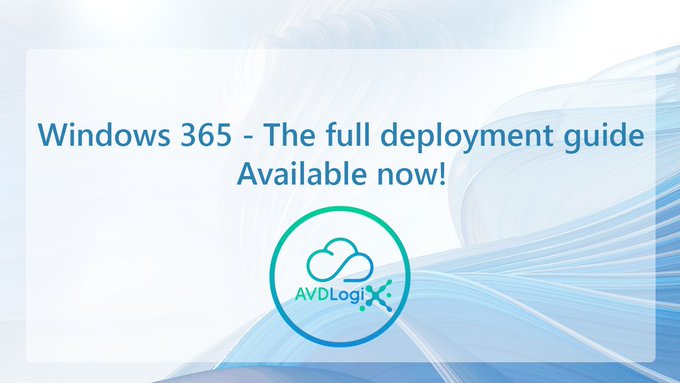 Windows 10 Image Series – Part4
Niels Kok released the next part in his Windows 10 series. This time he covers the deployment of hostpools.
What's new in Windows Virtual Desktop for July 2021
Tom Hickling shared the list of new features that havebeen released for AVD during last month. It's a huge list!
Ask the Expert: Windows 365: Hybrid Windows for a Hybrid World
If you want to see the ATE session again for Windows 365 hosted by christiaan Brinkhoff you can watch it again using this link.
That's it for this week, enjoy the weekend and until next week!