Hello and welcome to another avd news of the week. As usual I gathered the latest news from Microsoft and the community so let's get started.
Windows 11 SKU's for Automation
If you want to automate your avd image with the windows 11 sku, the blog from Niels Kok is your answer. He explains how to find the correct sku's for you builds.
Manage Windows Updates for AVD using Microsoft Endpoint Manager
You can manage windows update via MEM. In this blogpost Sander tells you how to automate this process with automated update rings.
Life on the Edge podcast, episode 4 – Automated Deployment of AVD and Windows Cloud PC with Nerdio
Neil McLoughlin was a guest on the 4th episode of the Life on the Edge podcast. In this episode they talk about AVD and Cloud PC and the integration with Nerdio.
WVD TechFest announced speakers
Next month the largest AVD event of the year will take place. This week Patrick and Simon announced some more speakers. Freek Berson will be presenting a session on how to leverage AVD as a gaming console. Esther Barthell will be presenting on how to transition Ops to the Cloud by adding Dev skills to the mix. I will be presenting on how to use the Getting Started feature.



MSIX App Attach – Meet the Experts Winter Edition
Ryan Mangan announced the 2nd edition of this event. It will be november 30th and the call for speakers is open. If you want to share your MSIX App attach knowlegde, go and submit your session.
Screen Capture Protection for macOS client and support for Sovereign Clouds
This week Dennis Gundarev announced that the screen capture feature is now also enabled with macOS clients. Also Sovereign clouds are now also enable with this feature.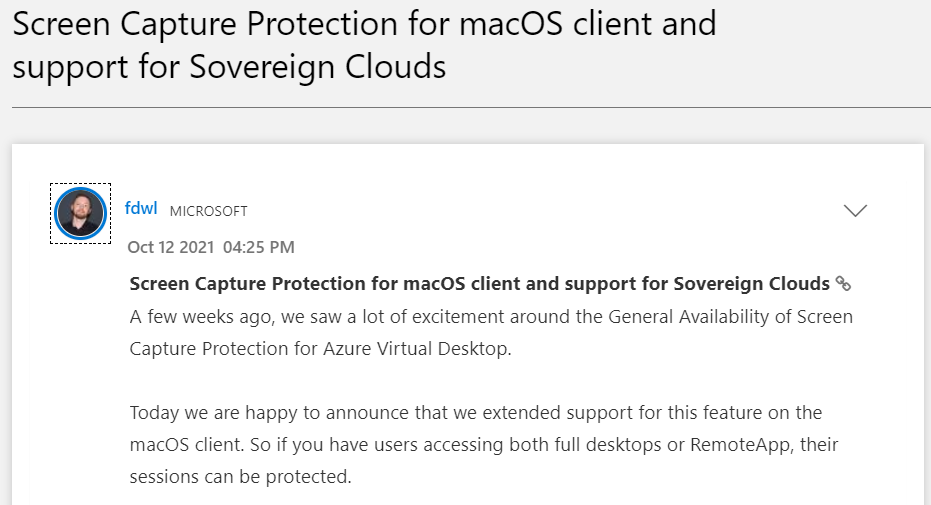 New version macOS client for AVD
Microsoft released a new version for macOS client in the app store. The newest version is 10.7.0. you can download it from the appstore.
That's all for this week, enjoy your weekend and until next friday.