Hi All,
Welcome to the 2nd WVD news of the week blogpost of the year. Again there is some exiting news to share.
Windows virtual Desktop offer
Microsoft released a WVD offer for new customers that saves 30% on computing costs for D-series and Bs-series vm's.
Bitlocker encryption Azure DevOps Release Pipeline
Niels Kok has written a blogpost about setting Bitlocker drive encryptionfor WVD sessionhosts in a Azure DevOps Release Pipeline.
Windows Virtual Desktop – Dutch Language pack
Stefan Peters has written a blogpost on how to change the language for the users using a GPO.
Prepare Azure DevOps for Windows Virtual Desktop deployment – App registration
Sander Rozemuller has released he's first of three blogpost about Windows Virtual Desktop and Azure pipelines. This post is about setting up a service connection, fully automated of course ;).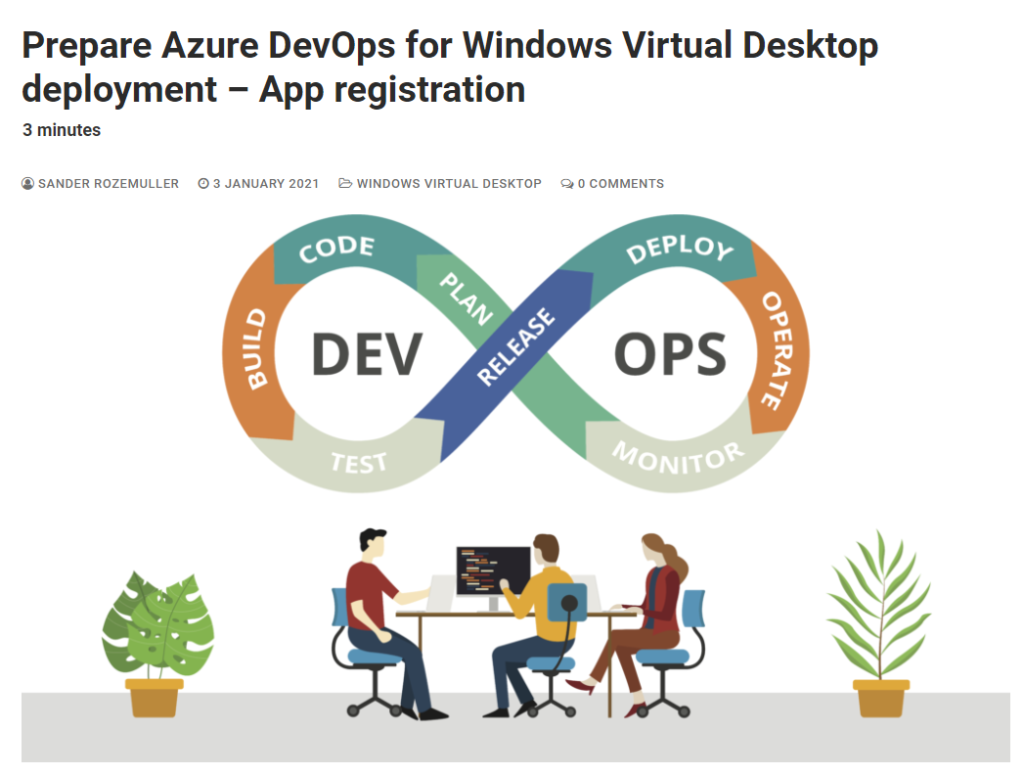 MSIX Packaging Extension is now available in the Azure DevOps Marketplace!
The new MSIX extension for Azure Pipelines offers a straightforward, intuitive and UI based solution making it easier to automate build and deployment process for apps being packaged as MSIX, and also for apps with existing CI/CD workflows to move to MSIX without disrupting their build and deployment mechanisms
Two version of same MSIX app whit MSIX app attach
Stefan Georgiev released a cool video to show how two versions of the same application can be run for the same user with MSIX app attach and some creative repackaging
What's new in Windows Virtual desktop
Microsoft released an update on the update page for WVD for december 2020. Microsoft released alot of news features for WVD last month.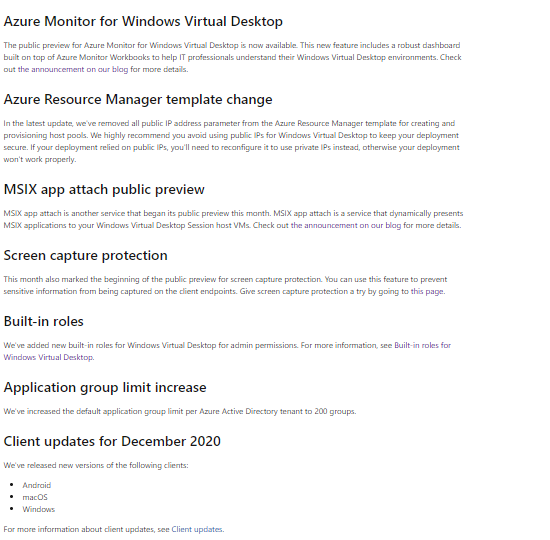 Desktops in the cloud
Christiaan Brinkhoff and Dean Cefola released the new episode of Desktops in the cloud. This episode they are talking with Microsoft MVP Simon Binder about Securing you WVD. A must watch episode!
Zero to Hero with Windows Virtual Desktop WVD
Travis Roberts's announced that he already has 504 enrollments on his Udemy Course. Awesome achievement Travis. If you want to learn about WVD this is a great resource.
WVDAdmin Videos
Marcel Meurer created some Youtube videos about WVDAdmin. Go and check them out!
Preparing to Manage Windows Virtual Desktops (WVD)
Mark Serafine has written a blogpost to prepare to manage WVD environment via Intune and MECM.
That's it for this week, so you all next week.