Hello and welcome to another avd news of the week, the 2nd of november 2022. As usual I gathered the latest news from Microsoft and the community so let's get started.
1 Azure Setting You Should Change NOW!!!
Dean created another great video about AVD. This time he talks about the private endpoint feature that is just released in public preview.
New ways to optimize flexibility, improve security, and reduce costs with Azure Virtual Desktop
In case you missed Ignite, you can now watch the session from the AVD product team with a great roadmap session packed with demo's.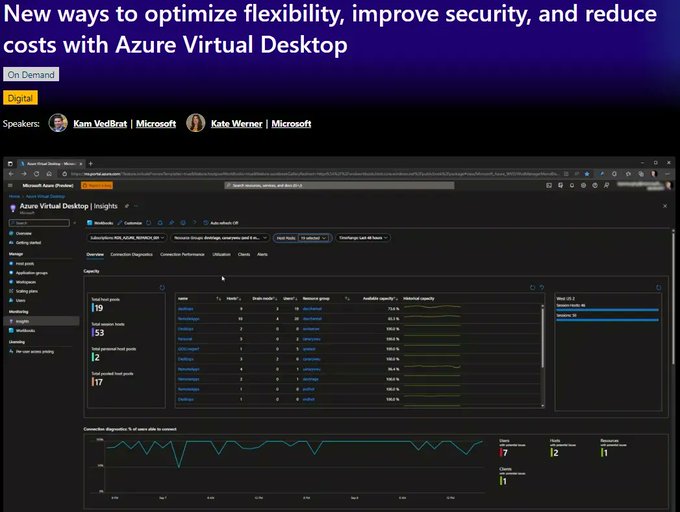 Microsoft Intune user scope configuration for Azure Virtual Desktop multi-session VMs is now GA
Another great update for AVD and Intune. It's possible now to cvreate User-Specifix settings via Intune for AVD.
Announcing general availability of FSLogix profiles for Azure AD-joined VMs in Azure Virtual Desktop
David Belanger announced the feature to use FSLogix profiles on Azure AD Joined session hosts. This is the next step to go full cloud with AVD. Be aware the users still need be Hybrid.
What is new in Azure Virtual Desktop for October 2022
In case you missed all the AVD announcements from last month, you can read them all here on the whats news page.
Route AVD traffic through static WAN IP with Azure Firewall automated
Sander created a blog post where he explains how to automate the routing of all the AVD traffic to your Azure Firewall and make sure that all the traffic goes outside of the network on a public ip.
Sysprep and deploy Windows 11 22H2 in Azure with a custom image and a workaround
Marcel Meurer posted a nice blog about an issue you can encounter whil created a golden image with Windows 11 22H2. He explains the issue and tells us the workaround he found.

Private Link for Azure Virtual Desktop
Another great video from Mahammad. This time he coverrs the new public preview feature to use private endpoints in combination with AVD.
Rollout issues: AVD Agent 1.0.5555.1008 and newer are causing high timeouts for upgrading themselves
Marcel posted another great blog this week. The new AVD agents takes alot of time to upgrade. Marcel has released an update to Hydra to help with this long upgrade time.
Announcing public preview of Private Link for Azure Virtual Desktop
Microsoft announced the public preview of Private Link support for AVD. This is a great feature to make AVD more secure.
That's it for this week, enjoy the sunny weekend.