Hello and welcome to another avd news of the week, the first of oktober 2022. As usual I gathered the latest news from Microsoft and the community so let's get started.
New AVD client versions
Microsoft released 3 new AVD client versions this week. All of the versions were released to fix some issues.
Announcing FSLogix 2210 Public Preview (2.9.8308.44092)
Jason Parker (sr PM for FSLogix) announced the new version for FSLogix that is now in public preview. alot of great features are in this preview. Read them all using the link below.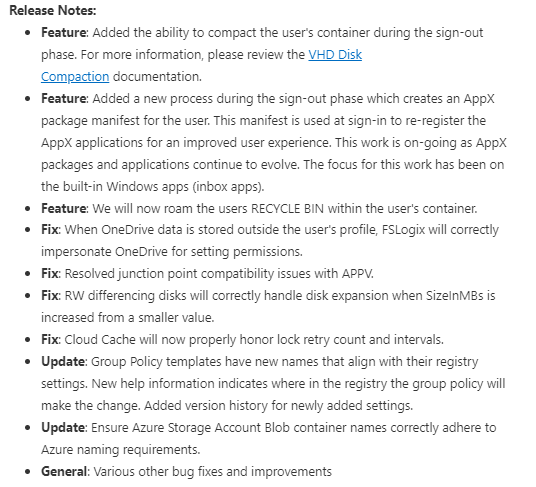 What is new in Azure Virtual Desktop for September 2022
Marvin Quinzon posted the items that are new for AVD in september. Features like SSO and the cost parent tag came out in september.
Quick Tip – Download the Azure Virtual Desktop RDPW files
Ivo Beerens released a quick tip how to download the RDPW files for your desktops and remote apps.
Announcing Public Preview: FSLogix Disk Compaction
Jim Moyle announced his first feature as a PM. FSLogix disk Compaction will compacte the fslogix containers when the users logoff? Great feature Jim.
Deploy the necessary Azure Virtual Desktop session host extensions using Terraform
In my latest blog I describe how you can install the necessary extension like the Azure Monitoring agent on your Azure vm's or AVD session hosts.
That's it for this week, enjoy the weekend.