Welcome to the first AVD news of the week of july. Again we have some great news from Microsoft but also from the community.
AVD Automation Cocktail – AVD automated with PowerShell
Sander Rozemuller released the second cocktail. This time he covers the AVD deployment with Powershell.
Project Hydra updates
Marcel Meurer keeps on adding features to he's new project Hydra. A super feature is in my opinion the "Deploy new session in drain-mode". Check out the complete list of feature in the link below.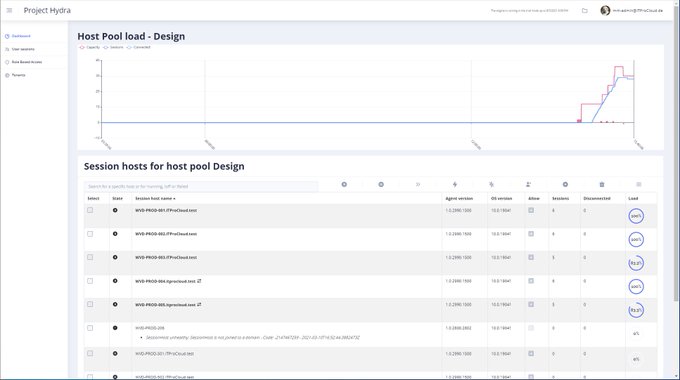 WVDAdmin updates
the other project of Marcel Meurer that also keeps on getting better is WVDAdmin. This time he added support for Edv4 and Edsv4 machines.
Announcing general availability of Azure Virtual Desktop service metadata storage in UK and Canada
After announcing the public preview now we have the GA release of the UK and Canada metadata locations.
SSO using AD FS is now generally available!
With this public release you can eliminate 1 logon if you have this feature deployed. If you want extra info about this feature and how to deploy check out the video from Dean Cefola.
Get The Most Out of The Cloud
If you want to leanr how to save some money in the cloud, go and watch the next video of Dean Cefola. He explains howto use the Azure calculator.
AVD Zero to Hero – Guest Podcast with Chris Pottrell
The next episode in the AVD Zero to Hero podcast is one with special guest Chris Pottrell. go and check it out and don't forget to watch the other episode.
AVD Zero to Hero: Deploying the underlying Infrastructure
The next episode in the AVD Zero to Hero podcast covers the deployment of the underlying infra that is needed for AVD.
How to prevent Google redirection in Azure Virtual Desktop
Morten Pedholt has written an very useful blog on how to fix the Google redirection in AVD. This can fix language issues in the user's browser.
How to create a Azure Virtual Desktop farm
Luke Murray has written a blogpost on how to deploy AVD. In this blog he covers to deploy the underlying structure like AADDS and deploys a AVD hostpool
Well this is it for this week. I'm gonna enjoy my vacation now. See you next week!!