Hello and welcome to another avd news of the week. The 4th of december 2021. As usual I gathered the latest news from Microsoft and the community so let's get started.
AVD TechFest announcement
Simon and Patrick announced the in person event next year in Amsterdam. The call for speakers is open so go and submit your session.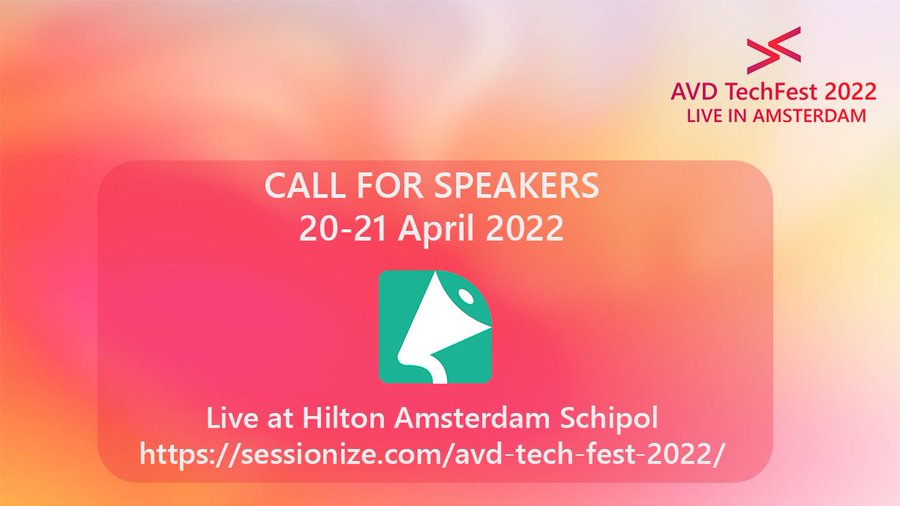 Packer YAML Azure DevOps Pipeline Pt. 1
If you want to know how to create an image that you can use for AVD using packer, go and read this blog by Niels Kok.
Meet the Inaugural 2021 Class of NVPs: Celebrating the NVP Captains! 
Bas van Kaam announced the 3 people in the Nerdio NVP program. Todd, Shabaz and Toby  will be the NVP Captains. Congrats to all 3 of them. Read the full announcement via the link below.
Deploy Azure Virtual Desktop with Terraform Part 2
I released the second part of my AVD and Terraform series. In this part I deploy AVD and side components using a DevOps release pipeline.
Managing WVD the modern way
Stefan Dingemanse and Sander Rozemuller recorded a session about AVD and MEM for the Festive Tech Calendar. Go and check out their contribution on youtube.
AVD Automation Cocktail – Deploy AVD AzureAD with DevOps and Az.Avd
Sander Rozemuller created another AVD cocktail for Christmas. In this cocktail he deploys an AzureAD joined only AVD environment automated with DevOps and the Az.Avd PowerShell module.
That is it for this week. A Merry Christmas to all of you and stay healthy.