Hello and welcome to another avd news of the week, the first one of september 2022. As usual I gathered the latest news from Microsoft and the community so let's get started.
SECRET to PERFECT Virtual Machine Sizes
Dean Cefola created another video to determine the correct size of your Azure virtual machines. This can also be good for your AVD session hosts.
Azure Virtual Desktop Session Hosts with Azure Disk Encryption
Marcel Meurer has written a blogpost where he explains how to deploy session hosts with Azure Disk Encryption with both Hydra and WVDAdmin.

New AVD client version
Microsoft released the next AVD client version 1.2.3495 in the insider's ring. One of the improvements is updated connection information for RDP Shortpath.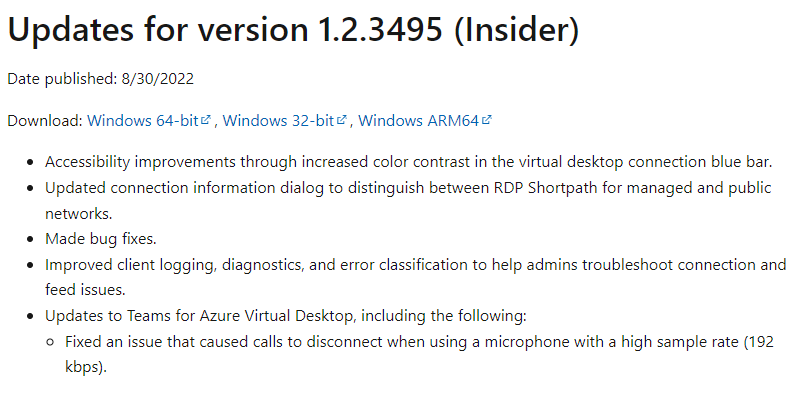 Public Preview: Leverage Azure Active Directory Kerberos with Azure Files for hybrid identities
After the announcement of Azure AD Kerberos for Azure files Microsoft has simplified the experience. It's more simple to configure in this public preview.
SSO and passwordless authentication to Azure virtual desktop using FIDO Key
Mahammad Kubaib has created a video explaining us how you can authenticate using SSO and a FIDO key to AVD.
Install Language Packs on Windows 10/11 the easy way
Stefan Dingemanse has written a blogpost where he explains an easy way to install language packs on session hosts using Powershell. He also talks about using Nerdio Scripted Actions for this.
That's all for this week. Enjoy the weekend!